The Disc Golf Pro Tour (DGPT) has recently unveiled the United Series, an innovative initiative allowing transgender women to compete in select FPO competitions. This progressive step, recognizing and celebrating gender identity, signals a new era within the disc golf community. The inaugural event under this policy will be the 2023 Ledgestone Open.
Policy Update
The policy stipulates that transgender women need to meet one of three criteria for competition, each addressing different stages of gender transition: ongoing hormone therapy, transition surgery, and transition before puberty. The intention behind these guidelines is to foster both inclusion and competitive fairness.
In particular, transgender women must have undergone hormone therapy for at least 24 months under medical supervision, maintaining testosterone levels below 2.0 nmol/L. They must inform the PDGA of any alterations in their hormone treatment. Transgender women who have undergone transition surgery can participate if their testosterone levels have remained below the specified limit for 24 months post-surgery. Lastly, transgender women who initiated their transition before puberty can compete in the FPO division at PDGA Pro Majors, provided they maintain testosterone levels below the limit. The full PDGA policy can be found here, and the original article here.
DGPT's CEO & Tour Director, Jeff Spring, regards the initiative as a sustainable solution to the intricate challenges surrounding gender eligibility. Spring articulated, "Gender eligibility is a topic that transcends disc golf. It's likely to be resolved in larger sports and higher courts."
From The FPO Pros
High-profile FPO players have voiced support for the initiative. PDGA World Champion Kristin Tattar expressed her solidarity, saying, "I support them in finding solutions in these tough times and trying to find common ground in a very sensitive area to make sure we still have a place to excel as disc golf professionals."
Five-time PDGA World Champion Paige Pierce acknowledged the imperfect nature of the new policy but applauded its focus on the sport, stating, "This new vision allows us all to get back to disc golf and focus on the beauty of our shared sport."
Echoing similar sentiments to Pierce, Ella Hansen considered it the best solution for all FPO players based on her understanding of this intricate situation. She shared, "I think it's the best solution for all FPO players based on my knowledge of this highly complicated situation."
Sarah Hokom shared her views on Instagram, asserting that disc golf's challenge is much larger than the sport itself. She stated, "This controversy is bigger than disc golf. For us to take on the task of solving this, ourselves puts the sport's growth in jeopardy. While the United Series is not a perfect solution, it does ensure that FPO players can continue to pursue their dreams, travel with their significant others, and play on courses that have historic significance and strong community support, while still maintaining the view that bodies that went through male puberty make competition unfair in FPO."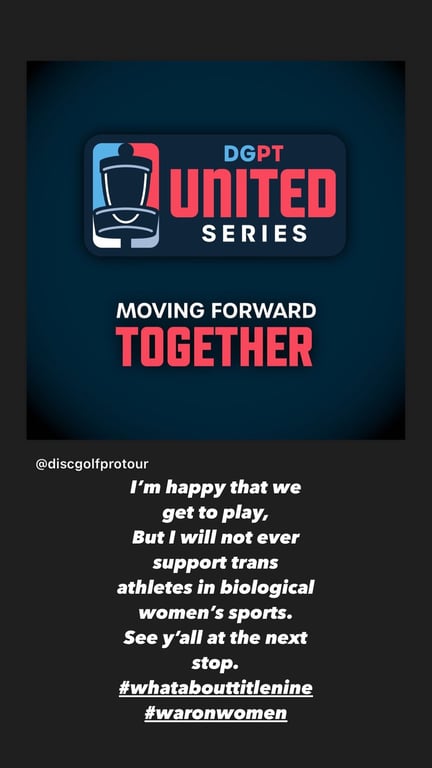 However, critics fear the policy may establish an uneven playing field due to physiological differences. Advocates counter that the criteria strike a balance between the competitive nature of the sport and respecting gender identity.
United Series
The launch of the United Series signifies a notable change in professional disc golf, sparking ongoing conversations about inclusivity, fair competition, and respect for gender diversity. With the inaugural United Series event, Discraft's Ledgestone Open, on the horizon, all eyes are on how this policy shift will shape the future of professional disc golf.
DGPT pledges its commitment to the United Series beyond 2023, envisioning it as a long-term solution. Details on the 2024 plans will be unveiled later. The first-ever event under the United Series banner, Discraft's Ledgestone Open, is slated for August 3-6 in Peoria, IL, with live coverage on the Disc Golf Network and post-production coverage on DGPT Media Partner YouTube channels.
For the remainder of the 2023 season, United Series designated events will award standard DGPT points and equivalent United Series points. The United Series will culminate at the MVP Open, where the top three competitors in United Series points will receive bonus payouts.
Shouting and Name Calling Doesn't Help Either Side
The DGPT stands behind all members of the disc golf community who strive to live their lives authentically. The Tour continues its commitment to providing a safe and harassment-free environment for all onsite and online competitors, guided by the DGPT community guidelines.
As DGPT paves a new path with the United Series, its commitment to inclusion and fair competition remains paramount. The ongoing debate about including transgender athletes in sports is further enriched by this significant step in professional disc golf.